We offer a six year cycle to all pupils. Our academic curriculum is determined mainly by the rules and regulations of the Department of Education and Science for both Junior and Leaving Cert Examinations. We manage our curriculum and use the school's resources to enrich each pupil's experience. Within the curriculum activities are designed to assist in the holistic development of the pupil, so that pupils leave us with enhanced self confidence and with the life skills and attitudes which will enable them to cope effectively with the continuing changes in society.
Junior Cycle:
Core Subjects include: Choir, Civic Social Political Education, English, Geography, History, Irish, Maths, Physical Education, Religious Education, Social Personal Health Education, Speech and Drama.
Pupils choose other subjects for their Junior Certificate Examination from: Art, Business, French, German, Home Economics, Music and Science.
Transition Year:
The Transition Year Programme is voluntary and open to students who have taken their Junior Certificate.
This year has proven very beneficial in terms of education for:
Maturity with emphasis on:
Social Awareness, Relationships, Team Work.
Promotion of Skills with emphasis on:
Critical Thinking Research (Project Work) Taking responsibility for own learning.
Work Experience with emphasis on:
Reality of Employment, Adaptability, Aid to Career Choice, Flexibility.
Foundations for Leaving Certificate with emphasis on core examination subjects.
Senior Cycle:
Core Subjects include: Irish, English, Maths and Religious Education
Pupils choose four subjects from: Accountancy, Art, Biology, Business, Chemistry, Economics, French, German, Geography, History, Home Economics, Music, Physics. Modules included on the timetable are Careers, Choir, Creative Writing, Guidance, Information Technology, Physical Education.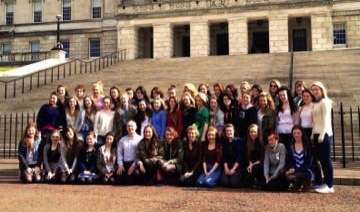 Leaving Certificate Vocational Programme:
L.C.V.P. is an enhanced Leaving Certificate Programme. L.C.V.P. students take two extra modules (Enterprise Education and Preparation for World of Work) in addition to their regular Leaving Certificate Subjects.
The Link Modules aim to enable students to:
Realise the potential of their vocational subjects.
To become self confident, innovative and resourceful.
Acquire attitudes and skills appropriate to adult life, the world of work and enterprise.
Explore career opportunities.
Interact effectively with and learn from adults in the community.
Utilise local business and community enterprises as learning resources.
L.C.V.P. requires a learner centred approach and students are encouraged to take their own ideas, develop them, put them into practice and evaluate the results.